Payments and Taxes
Read about the variety of payment options offered on the TigerFox Online Store, and how the tax on your order, if any, is calculated. Also, get more information about special pricing, offers, promotions, and other great deals with limited time availability.
1. Payments
Payment methods
The TigerFox Online Store accepts a variety of payment methods. Some payment types are ineligible for orders shipping to another or to multiple addresses. If you are using an ineligible payment type for an order shipping to another or to multiple addresses, you may need to change the payment method, or ship your order to a single address.
Using more than one payment card
Credit card(s) – Up to two (2) credit cards may be used as a payment method for any one order shipped to one address.
Credit Cards or Debit Cards
Troubleshooting credit card & debit card payment errors
If your card is new or recently reissued, make sure it has been activated.
Double check the card type (for example, VISA), the account number and expiration date.
Remove dashes or spaces from the account number.
If everything seems to be correct and the card still malfunctions, call the card issuer's customer service 800 number on the back of your card. Your credit card company may need to speak with you before they authorize your purchase.
Account verification
To prevent any unnecessary delays processing your order, please ensure that the billing address and ZIP code on your order matches the information on your credit card account. If you have recently moved or are unsure whether you receive your credit card statement at your work or home address, please contact your card-issuing bank using the 800 number on the back of your credit card to confirm.
Security codes
The card security code is a unique three or four digit number printed on the front (American Express) or back (Discover/MasterCard/Visa) of your card, in addition to the account number.
American Express: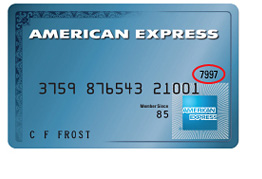 Discover/MasterCard/Visa: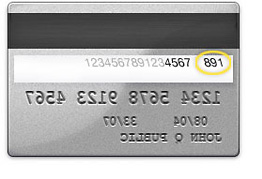 Daily spending limits for Debit Cards
Most debit and check cards have daily spending limits that may substantially delay the processing of an order, even if there is enough money in an account. When using a debit card, funds are immediately reserved in your bank account at the time you place your order. Please consult your card-issuing bank for information about your daily spending limits if you are having trouble placing your order.
When TigerFox charges your account
When you place an order, an intermediary e-commerce service will contact your credit or debit card's issuing bank to confirm it is a valid account. The authorized intermediary bank will then charge your card accordingly. At the time of order, your card will be charged for the product(s) you order, including shipping cost and appropriate taxes if applicable. For pickup items, you may be billed before your item is ready for pick up. If your order contains multiple items, you may see multiple charges on your credit or debit card statement. As TigerFox prepares your items, authorized funds may display as "pending" on your credit or debit card's statement.
If your order is cancelled before your items are shipped, a refund to your credit card account will be made within 10 days of the order cancellation. Contact your financial institution for their specific return time frames.
Credit cards accepted
The TigerFox Online Store U.S. accepts credit, debit, or check cards, or your personal or business checks associated with a billing address within the continental United States. Personal or business checks may add a 7 day clearance time to delivery. In the continental U.S., we accept:
American Express
Discover
MasterCard
Visa
2. Taxes
In accordance with state and local law, your TigerFox Online Store purchases will be taxed using the applicable required sales tax, if any, or seller's use tax rate for your shipping or delivery address, or the TigerFox Store address where the item is picked up.
The tax listed during checkout is normally only an estimate.
Your final invoice will reflect the shipping cost, if any, and final total tax which includes state and local taxes, where required, as well as any applicable rebates or fees.
Tax-exempt orders
To place an order on behalf of a tax-exempt business or organization please email your request to the TigerFox Store Tax Exemption Department at TigerFoxCustomerService@gmail.com for information on providing the required proof of state tax-exempt status for the state where the product is being shipped or picked up. The organization or business name on the order must exactly match the state tax-exempt certificate and the business name on the credit card being used for the purchase. Federal tax exemption certificates are not applicable. 
Thank you.
_____________________________________________
The information contained in this section is subject to change without notice.
Copyright © 2022, TigerFox, Inc.
All rights reserved. TigerFox, Inc., Milwaukee, Wisconsin, USA. 53213